Your Own Personal Computer Helper
It's Like Having Your Own Personal Computer Helper.
Speak to the same tech anytime you need computer help.
My online computer help service is available anywhere in the U.S.
And U.S. based. And I speak English not Tech.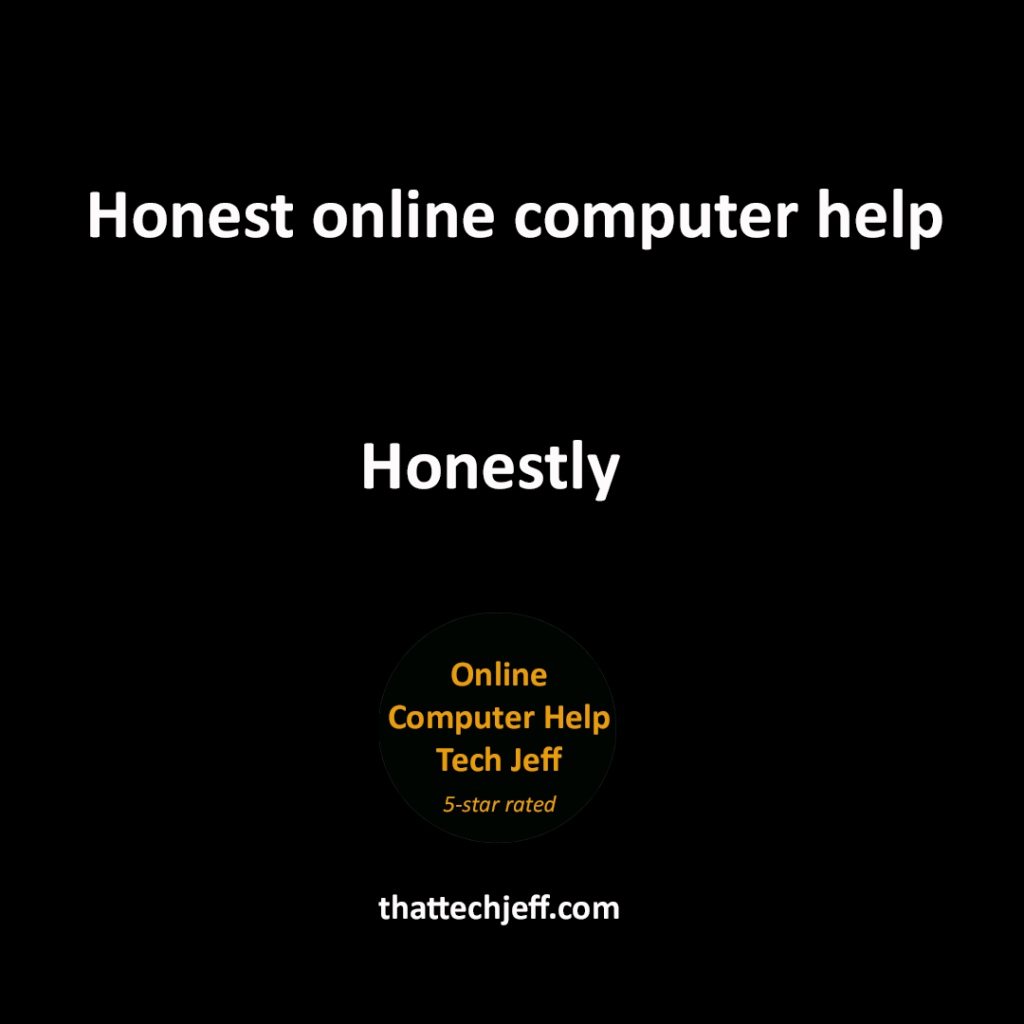 It's Like Having Your Own Personal Computer Helper
Rather than having to deal with a different person (and possibly accent) each time you need computer help can be frustrating. What if you could have your very own personal computer helper?
Online computer help from Tech Jeff is just like having your own personal computer helper. His online computer help service is U.S.-based, and Tech Jeff speaks English not Tech.
Unlike corporate-owned shops where you never know who you'll speak to, you'll get to know Tech Jeff and he'll get to know you as well.
Jeff is not satisfied with just being your technician, Tech Jeff's sure that you'll learn more from him as you work together on your computer issues.
Tech Jeff works with you to understand what you need and how he can help you. At the end of each call, you'll leave feeling as if you know more about computers.
If you need
computer help
, he's the tech you need to get your computer back in the fast lane!
Tech Jeff is qualified, experienced, and certified. As well as other computer issues, Tech Jeff can also help with printers and software. Tech Jeff can be contacted via web form or phone call. Tech Jeff provides services to individuals and businesses. He aims to help people all over the country with online computer help and make it as affordable as possible. Tech Jeff offers a friendly and efficient service that is available to you seven days a week and available to you no matter where you are in the U.S.
Visit thattechjeff.com to get help with your computer now or
Thanks for your read and do keep up to date!
– Tech Jeff
Open seven days a week including Sunday
Available anywhere in the U.S.
Jeff's Blog
In today's fast-paced digital world, our computers are our [...]
That Tech Jeff can help you with your computer no matter where you live! Get U.S.-based online computer help or computer tutoring no matter where you live. Just read the more than 900 five-star reviews. (thumbtack and google combined)
That Tech Jeff has 26 years experience and has offered computer help online since 2007.
Before you head to Geek Squad get That Tech Jeff's advice.
Its free
.
Affordable and honest FLAT RATE online help – no hourly charge.

You pay just one price if your problems are fixed and nothing if not.
Quick and easy. Can't put a price on Peace of Mind, but Jeff did…. and it was good. :-)
EXCELLENT SERVICE! Jeff responded instantly on phone, and sets straight-off to work on my 2009 iMac. He got the miserably slow & temperamental browser back in order, ran diagnostics, and a thorough cleanup; thus saving me the trouble and expense of purchasing an new computer! I know my old computer will undergo further fits and shutters before I have to replace it, but until then, I'll call on Jeff. When the time comes to buy another, Jeff will be the man to guide me through the transition. Thank you, Jeff ~ I'm so very glad to have placed my computer in your hands!
Amazing experience. Jeff delivered as promised, made computer difficulties melt away. I am so grateful. Recommend him highly.
Jeff was wonderful and extremely friendly. I have been frustrated with my computers' performance and software issues for over three years. Finally, I was desperate enough to ask for help, and he solved all of my problems in less than a day! He is a real treasure, and I now have him on speed dial! I am forever grateful!!!
Jeff didn't give up on our problem. He worked endlessly on our very messed up, outdated computer in order to get our new printer to work. I know he could handle any problem out there if he could fix this. Thanks Jeff