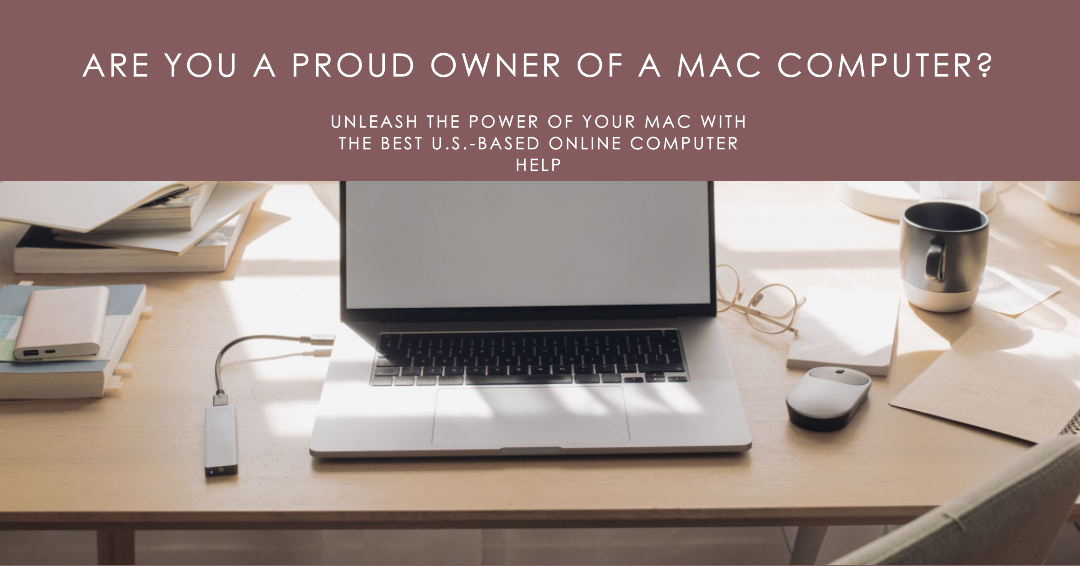 Unleash the Power of Your Mac with the Best U.S.-Based Mac Help Online
Mac Help Online
Are you a proud owner of a Mac computer? If so, you're likely already aware of the incredible power and efficiency that Macs bring to your digital life. But like any tech device, Macs can sometimes encounter hiccups or need a helping hand to reach their full potential. That's where the best U.S.-based online computer help for Mac computers comes in!
In this comprehensive guide, we'll explore why online computer help for Macs is essential, what to look for in an online support service, and why going with a U.S.-based provider can be a game-changer for Mac users like you. Let's dive in!
Mac Help Online
Before we jump into the world of online computer help, let's remind ourselves why Macs are so beloved:
Smooth Performance

: Macs are known for their buttery-smooth performance, even as they age.

Ecosystem Integration

: Seamlessly connect your Mac with your iPhone, iPad, and other Apple devices.

Security

: Robust security features keep your data safe from prying eyes and cyber threats.

User-Friendly

: The intuitive macOS interface makes it easy for users of all ages to navigate.

Design

: Sleek and stylish, Macs are a statement piece on any desk.
Mac Help Online
The Need for Mac Support
Despite their many virtues, Macs are not immune to issues. Here's why you might need online computer help for your Mac:
Technical Glitches

: Even Macs can experience software or hardware hiccups.

Software Updates

: Staying up-to-date with macOS and application updates can be daunting.

Data Recovery

: Accidents happen. Professional help can save your important files.

Performance Optimization

: Over time, Macs can benefit from a tune-up to maintain their speed and responsiveness.

New User Assistance

: If you're new to the Mac world, you might need guidance on how to make the most of your device.
Mac Help Online
What to Look for in Online Computer Help for Macs
Not all online computer help services are created equal. Here's what you should consider when choosing one:
Experience

: Look for a service with a track record of assisting Mac users effectively.

Services Offered

: Ensure they cover a range of Mac-related issues, from software troubleshooting to hardware repair.

Accessibility

: A user-friendly platform or app for connecting with support is crucial.

Customer Reviews

: Read what other Mac users have to say about their experiences with the service.

Pricing

: Consider your budget and the value you're getting for your money.
Mac Help Online
The U.S.-Based Advantage
While you can find online computer help services worldwide, there are distinct advantages to choosing a U.S.-based provider:
Time Zone Compatibility

: Working with a U.S.-based service means they operate in your time zone, making it easier to schedule assistance when it's convenient for you.

Cultural Understanding

: U.S.-based providers often have a better understanding of the specific needs and preferences of American Mac users.

Language

: Language barriers can complicate technical support. With a U.S.-based service, you'll communicate more easily in English.

Legal Protections

: When dealing with a U.S.-based company, you have the added protection of American consumer laws.
The Best U.S.-Based Online Computer Help for Macs
Now, the moment you've been waiting for. Let's introduce you to the top rated U.S.-based online computer help service for Macs:
That Tech Jeff: Affordable and Honest Online Mac and PC Computer Help
That Tech Jeff is an online computer repair and tutoring service that offers affordable and honest online help for PC and Mac . With over 1000 five-star reviews, That Tech Jeff is the trusted choice for computer help from anywhere in the world.
That Tech Jeff has been offering online computer help since 2007, and has over 26 years of experience in the industry. Jeff is a certified technician who can diagnose and fix any computer problem quickly and efficiently.
Making the Most of Online Computer Help
To get the best results from your chosen online computer help service, consider the following tips:
Describe the Issue Clearly

: When requesting assistance, be as specific as possible about the problem you're facing.

Ask Questions

: Don't hesitate to ask questions if something isn't clear during the support session.

Learn Along the Way

: If you're interested, try to understand the steps the technician takes to resolve your issue. It's a great way to learn more about your Mac.

Feedback Matters

: After your session, provide feedback on your experience. This helps the service improve and assists future users.
With the best U.S.-based online computer help for Macs, you can unleash the full potential of your beloved device while enjoying peace of mind knowing that help is just a click away. Whether you're troubleshooting a pesky issue or seeking guidance to make the most of your Mac, the right support service can make all the difference. Embrace the digital world with confidence, Mac users—it's a world of limitless possibilities!