In today's fast-paced digital world, our computers are our lifelines. Whether a PC or Mac, we use them for work, play, communication, and so much more. But what do you do when your trusty computer starts acting up, and there's no computer help available nearby? This comprehensive guide explores the challenges of finding computer assistance in remote or underserved areas and introduces a game-changing solution: That Tech Jeff Online Computer Help.
The Challenge of Remote Computer Help
Living in a remote area or a small town can be a dream come true in many ways, but it can also present unique challenges when you encounter computer problems. Limited access to specialized computer repair services, tech support hotlines, and even local repair shops can leave you feeling stranded when your computer is on the fritz. But fear not, because modern technology has a solution – online computer help.
The Rise of Online Computer Help
As technology has advanced, so has the way we seek assistance with our computer issues. Online computer help has emerged as a viable and effective way to get the support you need, no matter where you are located. And one name stands out in the world of online computer help – That Tech Jeff.
Meet That Tech Jeff: Your Online Computer Help Superhero
That Tech Jeff, whose real name is Jeff Bosset, is not your average computer technician. With over 26 years of experience in the tech industry, he's seen it all and has a 5-star rating on both Thumbtack and Google, backed by a combined total of more than 1000 five-star reviews. But what sets Jeff apart from the rest is his unique approach to online computer help.
Why That Tech Jeff Online Computer Help Is Your Best Bet
Accessibility Anywhere, Anytime
One of the biggest advantages of choosing That Tech Jeff's online computer help is accessibility. It doesn't matter if you live in a bustling city or a remote cabin in the woods; as long as you have an internet connection, Jeff can assist you. He's available 7 days a week, ensuring that you can get the help you need when it's convenient for you.
No Hourly Rates, No Fix, No Fee
Jeff believes in transparent and fair pricing. Unlike many tech support services that charge by the hour, Jeff offers a flat rate of $69.99 for his online computer help. What's even more remarkable is his "No Fix, No Fee" policy. If he can't resolve your computer problem, you won't pay a dime. It's a commitment to ensuring that you only pay for results.
Expertise That Extends to Seniors and Beginners
Tech troubles don't discriminate based on age or experience, and neither does Jeff. He's particularly skilled at assisting seniors and beginners, offering patient and clear guidance. Whether you're a tech-savvy millennial or someone who's just getting acquainted with computers, Jeff has your back.
PC and Mac
Comprehensive Range of Services
That Tech Jeff's online computer help covers a wide spectrum of services, including:
Virus removal

Malware removal

Speeding up a slow computer

Software installation

Printer problems

Email issues

And much more!
No matter the nature of your computer problem, Jeff has the experience and expertise to tackle it head-on.
How That Tech Jeff's Online Computer Help Works
Getting computer help from That Tech Jeff is a breeze. Here's how it works:
Step 1: Get in Touch – Reach out to Jeff via his online platform or contact him through email.
Step 2: Describe Your Issue – Clearly describe the problem you're experiencing with your Pc or Mac computer. The more details you provide, the better Jeff can diagnose the issue.
Step 3: Schedule a Session – Jeff will work with you to schedule a session at a time that suits your convenience.
Step 4: Online Assistance – During the session, Jeff will provide step-by-step guidance and assistance through remote desktop technology. You can sit back, relax, and watch as your computer issues get resolved.
Step 5: Payment Only for Results – If Jeff successfully resolves your computer problem, you'll be charged the flat rate of $69.99. If, for any reason, he can't fix the issue, you won't be billed.
Why Choose Online Computer Help Over Local Services
Online computer help from That Tech Jeff offers several advantages over traditional local computer services:
Accessibility

: You can access online help from anywhere with an internet connection, eliminating the need for physical proximity to a service provider.

Convenience

: Online sessions can be scheduled at your convenience, even outside regular business hours.

Cost-Effective

: Jeff's flat rate pricing and "No Fix, No Fee" policy ensure that you get value for your money.

Expertise

: Jeff's extensive experience and 5-star ratings attest to his expertise in solving a wide range of computer issues.

Tech Support for All

: Whether you're a seasoned pro or a beginner, Jeff can assist you with patience and clarity.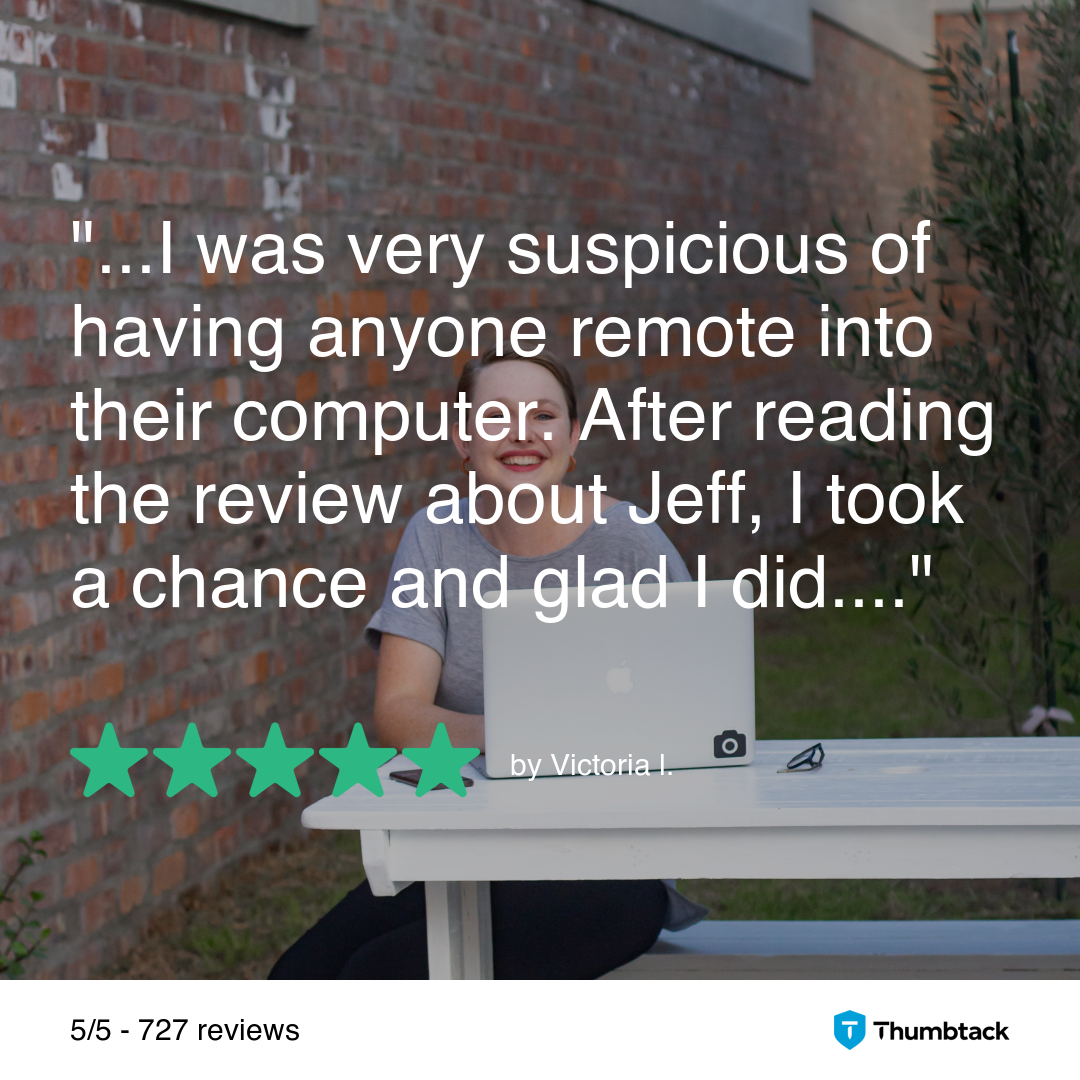 In Conclusion: Your Go-To Online Computer Help
When you're faced with computer problems and there's no computer help near you, turn to That Tech Jeff's online computer help. With his wealth of experience, transparent pricing, and commitment to customer satisfaction, Jeff is your trusted partner in resolving tech troubles, no matter where you are. Say goodbye to the frustration of limited local services and embrace the convenience and expertise of online computer help. Contact Jeff today and experience the difference for yourself!
Remember, in the world of computers, help is just a click away with That Tech Jeff Online Computer Help. Get the assistance you need, when you need it, without the hassle of location constraints. Your computer will thank you!