Prior to purchasing a laptop, make sure you have specific requirements on the type of computer needed.
Some require specific types such as Microsoft, Google, a Chromebook, or Apple products such as a MacBook,
Check out the options below and see if any of them will work for you.
How to Get a Free Laptop
If you are considered low income (definitions differ at each organization) you could get a free laptop.
The companies and/or foundations listed below supply free laptops to families under certain circumstances.
1. The OnIt Foundation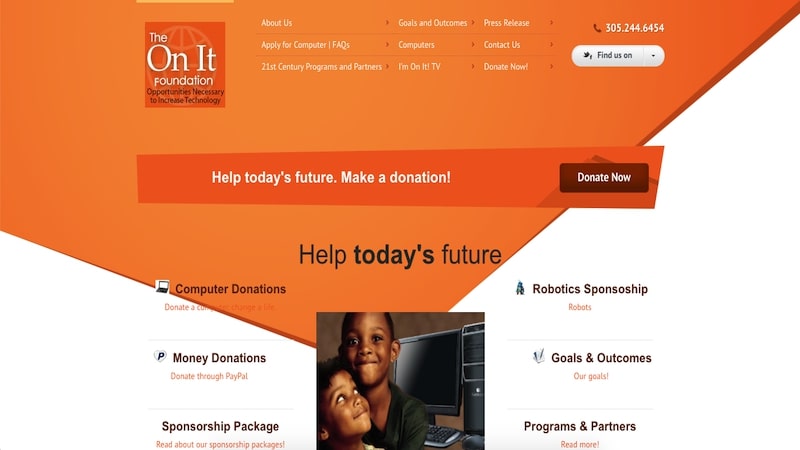 The OnIt Foundation (short for Opportunities Necessary to Increase Technology) is one organization that provides free laptops. To qualify, you must have a child in a K-12 school grade.
You must also have a low enough income that your child qualifies for a free or reduced school lunch at the public school he/she attends. Yes, your child must attend public school to qualify.
All qualifying children must live in the United States – the program is only open in the U.S. at this time.
Application instructions are listed on the foundation's website.
2. Computers for Kids
Computers for Kids is a non-profit organization that provides free laptops to kids in ID, WA and OR. The computers they use are donated by businesses or individuals, refurbished and given to underprivileged children.
The organization also gives low cost computers to schools and other non-profit organizations.
The goal is to help them build computer labs to make research and education easier for children.
3. Computers with Causes
Computers with Causes collects donated computers to give to kids and others. According to their websites, they give computers to underprivileged kids, returning military members and households in need.
They also give computers to foster homes and educational programs. To get a free laptop, you need to fill out an application and explain your need.
The goal of the organization is to ensure people with the highest need get computers first. Therefore, be prepared to answer questions regarding your application.
Also, the site mentions that receiving a free laptop from the organization may affect any government benefits you receive. As such, you may want to check with your benefits department before applying for a free computer.
Computers with Causes operates in all 50 U.S. states.
4. With Causes
Not everyone can get a free laptop. Typically, you'll need to be a high school or college student or be in a low tax bracket.
If you don't fall into one of those categories, you may still qualify for a discounted laptop.
With Causes is a charitable organization that accepts donated laptops and other computers to give to those in need.
You may be eligible for a free laptop if you:
Live in a low-income family

Live in a women's shelter for battered women

Are a military member or veteran of the military
To find out if you qualify for a free laptop from With Causes, simply fill out their online form. You'll be asked what your specific need and situation are.
As with other charitable organizations, receiving a laptop from With Causes may affect your government assistance benefits.
Be sure to check with the proper local authorities before receiving a free laptop.
5. Attend an Online College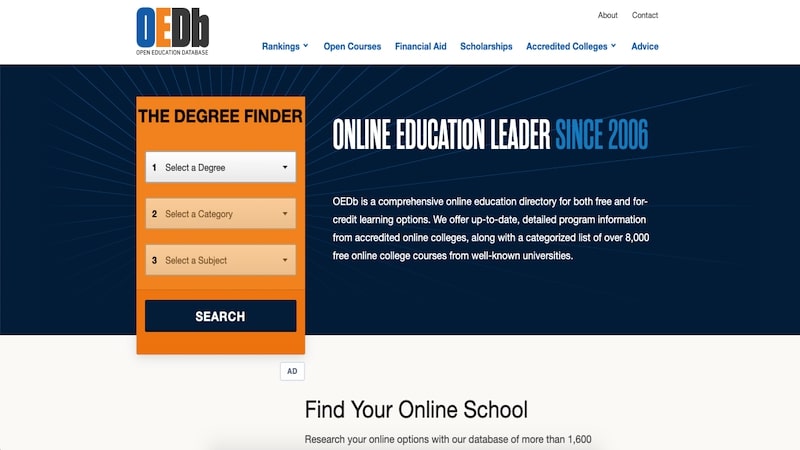 Some online colleges will give you a free laptop computer or iPad if you attend their college. It's important to check tuition costs in order to be sure the price of tuition is worth the free computer.
Some colleges will raise tuition costs to cover the price of the laptop, so be sure to shop around. The Open Education Database has a list of online colleges that offer free laptops.
This will make it easier for you to find a free laptop for attending an online school.
6. Attend an Online Public School
Some public school districts have online options for students who want to attend public school from home.
This education choice can be a good option for families who are considering homeschooling but aren't confident in their teaching schools.
It can also be a good alternative for students who for other reasons don't fit well in traditional schools. Online public schools sometimes offer free laptops to students who choose their school.
Check with your local public school district for the online public school option availability.
Note that with both online public schools and online colleges, you are sometimes required to return the computer when you're finished with your schooling.
7. Alliance for Technology Refurbishing and Reuse
The Alliance for Technology Refurbishing and Reuse (AFTRR for short) works with local organizations in cities and states. The goal: to provide free computers to those in need.
If you go to their website (the link is above), you'll find access to a locator map. The map will direct you to organizations in your area that provide free computers to those in need.
Note that some organizations that AFTRR links to may provide discounted computers only.
If you're looking for more options for getting a free laptop computer, there are people you can ask. I would start with your local department of human services.
They might have information on getting free or discounted computers.
8. Your Local Library
Although you can't get a free laptop to keep at your home, you can have access to a computer via your library. Most local libraries have several free computers for members to use as they wish.
They generally have free Internet access as well, meaning you can complete a variety of tasks with library computers.
Note that you do have to obtain a membership at most local libraries before they'll allow you Internet access.
This is mainly for security reasons so they know who is visiting which websites from library computers.
How to Get a Highly Discounted Laptops
If you don't qualify for a free computer from the organizations listed above, you may qualify for a discounted computer.
The following places may be able to provide you with a computer at a highly discounted price.
Note that each organization has different regulations about who can qualify to buy a discounted computer.
1. eBay or Amazon
If you look on EBay or Amazon, you may be able to find a refurbished computer. These refurbished laptops are usually sold at a much lower price than a new laptop.
And the good news is that anyone can buy one. There are no qualifications or income limits to buy a discounted computer from these sources.
You can free stuff such as computers on other similar sites such as Facebook Marketplace, Offer Up and Craigslist.
2. PCs for People
Eligibility requirements include:
Being currently enrolled in an income-based government assistance program

Be 200% below the current poverty level
This organization can also provide discounted computer repair services. Go to the PCs for People website to get more information about services and eligibility requirements.
3. The Jump OnIt Foundation
The Jump OnIt Foundation was started by the OnIt Foundation mentioned above. If you don't qualify for a free laptop from the OnIt Foundation, you may qualify here.
When Jump OnIt talks about highly discounted computers, they're talking about computers as low as $99.
The qualifications are as follows:
Your income needs to be less than $23,400 per year

Your child needs to qualify for free or reduced school lunch

Or, you need to receive SSI, DSHS, TANF or GA-U
If you meet any of these qualifications, but you don't qualify for their free computer from OnIt, don't fret. You may qualify for a discounted computer from their sister agency, Jump OnIt.
4. Everyone On
EveryoneOn is a non-profit organization that works to help everyone have access to affordable computers and Internet service.
Since 2012 they've helped more than 600 million people get connected to the Internet affordably. Everyone On believes that what they do will help improve the lives of the people they help.
Their website states that people with a home Internet connection are employed 25 percent faster than those who don't.
That means that the unemployed can get working sooner with the right tools, such as an Internet connection.
Contact the agency directly for more information on whether they can help you get a free laptop.
5. World Computer Exchange
You may be able to get a low-cost computer from World Computer Exchange if you live in a developing country. Note: you generally need to be under 24 years of age as well.
This organization generally sells to organizations planning to use the computers in public settings. However, they do consider many other needs.
6. Computer Technology Assistance Corps
The Computer Technology Assistance Corps (CTAC) exists to create opportunities and empower people. They accept donations of used laptops and other devices, refurbish them and provide them to those in need.
The computers are sold at a "cost recovery basis" amount.
In order to qualify for these computers, you must meet the following guidelines:
Receive food stamps or

welfare

Receive reduced or free school lunches

Be a low-income senior over the age of 62

Be handicapped or disabled
If you fit into these parameters, you may qualify to receive a computer form CTAC. Laptops purchased through CTAC start at about $100 each. Desktop computers they sell start at around $68.
Simply apply online at their website to see about potentially getting a highly discounted computer.
7. Dell Refurbished
Dell Refurbished sells refurbished laptops at discounted prices to the general public.
Just head over to their website and start shopping.
8. Notebooks for Students
Notebooks for Students is a non-profit organization that offers discounted laptops to students. To be eligible, you need to be attending K-12 school, be homeschooled, or be attending college.
This organization sells all types of laptops including Dell, HP, Lenovo and more to students at a discount price.
9. Connect All
Connect All sells highly discounted computers to non-profit organizations and to those with low income. You'll have to check out their website to get detailed qualification criteria, but you can get a great deal if you qualify.
When I checked on their website, they were offering refurbished laptops for as low as $129.
10. Your Local Pawn Shop
You may be able to get a great deal on a refurbished laptop by stopping by your local pawn shops. Pawn shops resell laptops people have sold them.
And there are no income or other qualifications to meet if you want to buy one. You simply need some cash. This can be a great way to get a laptop at a highly discounted price.
Summary
Though not just anyone can get a free computer, there are organizations and government programs out there to help those in need.
There are also local program resources to get a low-priced laptop even if you're just a regular person looking for a deal.