Computer help for Senior Citizens
No longer do seniors only have their grandchildren to turn to for gadget help.
With the technology available today computer help for Senior Citizens is readily available. The challenge is finding a trustworthy technician. Introducing That Tech Jeff!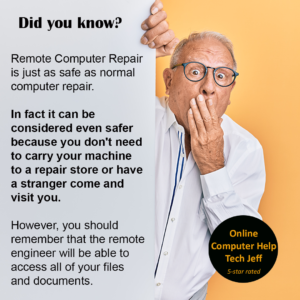 Best Online Computer Help For Seniors.
Many computer experts out there do not have what is necessary to successfully provide computer help for seniors. I believe I stand out as the best tech support for seniors for several reasons:
It's important to be patient with senior customers, as they may not be as familiar with technology as younger generations. They may also have difficulty understanding instructions or using certain websites. Here is what I strive to provide my senior clients:
I am always clear and concise in my instructions. I speak to you in English not Tech!

I use simple language and avoid technical jargon.

I am very patient if you ask for help, make a mistake, or need more time.

I'll walk you through the steps or provide additional resources.

I am always understanding if you become or are frustrated or confused.
These are just a few of the things I do to help make the online computer help experience less stressful and more enjoyable for seniors.
A word of warning about getting computer help online
I pride myself in begin honest and fair with my customers in need of online computer repair. However not everyone is honest. A few tips about getting computer help online:
Rule #1
NEVER believe a pop up telling you your PC is infected – even if it says its from Microsoft. These pop up virus warnings are fake.
Rule #2
Your online computer helper should never be the one reaching out to you. When you need computer help you will be quite aware of it yourself. You should always be the one reaching out for help and never the other way around!
By realizing that no one but you knows how your computer is doing you can be confident that any pop ups or phone calls telling you that your computer is infected is likely fake.
That Tech Jeff offers safe and friendly computer help for
Seniors
located anywhere in the U.S.
With more than 900 trusted reviews  (Google & Thumbtack.com combined) you can easily connect with Jeff from the comfort of your home.
In today's fast-paced digital world, our computers are our [...]